Ian Gelder is one of the most respected actors in the British entertainment scene with the actor appearing in more than 60 movies and TV shows and also a great number of plays. Born on 3 June 1949 the actor made his career first in the theatre, but the greatest role of his career was in Game of Thrones where he played the character of Kevan Lannister, the brother of Tywin Lannister.
Ian also played the character of Mr. Dekker in the TV series Torchwood while also appearing in numerous other movies and TV shows including Doctor Who, Snatch and Casualty. Whatever the case, the biggest role of his career was while he appeared in the show with the dragons for 12 episodes.
Watch: All the best moments of Kevan Lannister on Game of Thrones
https://www.youtube.com/watch?v=zKoz3jWppdg
Since, he is a British actor, he, like most other actors from the island, was hired to play a character in the upcoming joint production of His Dark Materials. Though his character is only scheduled to appear in one episode, considering the event this series is going to be, this is a great opportunity for the talented actor to do some easy scenes and head home to his partner.
Ian is Playing the Character of Charles in His Dark Materials
Ian Gelder will appear in His Dark Materials next.
Source: Royal Court Theatre
In the books by Philip Pullman, the character is known as Charles, but according to IMDb, the character is named Librarian Scholar Charles in the series. The role is not consequential in the grand scheme of things, but still, he is one of the players in the first couple of chapters in the book.
Lord Asriel was plotted against, and Charles was one of the conspirators who wanted to poison and kill him. Though later on, he became apprehensive about the poisoning plot, and this was the last we heard of the character in the book. They are probably not going to change the whole story for a character, and it seems Ian will be playing the character as designated in the book.
Watch: The official trailer for the first season of His Dark Materials
Considering the talent the actor is, we are more than happy to see him in any role. His Dark Materials will debut on 3 November on BBC One and on 4 November on HBO.
Ian Relationship with His Partner Ben Daniels
Ben Daniels and Ian Gelder are in a relationship for about 27 years.
Source: Hamilton Hotel
Ian's sexual orientation is gay, and he said he knew pretty early of his affection towards men and men only. The actor never truly came out as gay and considering the time he was living in, it is understandable why he was not ready to come out. We don't know of any past relationships of Ian except for the one he forged with fellow actor Ben Daniels.
The two met when they were cast in a play, Entering Mr. Sloane together in 1993 and while working together, they started to develop feelings for one another. After the two were done with the play, they started dating and even moved in together.
Ben Daniels and Ian Gelder are in a relationship.
Source: Pinterest
The relationship was low-key and considering the prevalent homophobia back in the day, and still today, they decided to keep everything on the down-low. Even though Ben never hid the fact he was gay, the two wanted their relationship not to be influenced by outsiders.
Ian knew he was gay from a young age, but he never talked about coming out to his parents, and what it was like the first time he knew he was gay. On the other hand, his partner Ben knew the exact moment he realized he was gay and shared his experience. Born on 10 June 1964 the actor was about 13 years old when he was clear he carried affinity towards people of the same gender.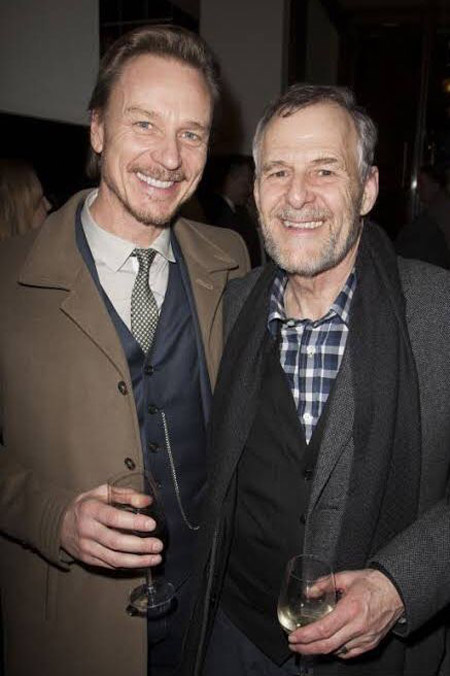 Ian Gelder and Ben Daniels are together for over 27 years.
Source: Pinterest
Ben was confident he was gay, and he wanted to tell his parents about his affinity towards men, but when he was in his early teens, the AIDS epidemic was scaring people world over. There was no one to blame back in the day, so they decided to blame it all on gay people. So, you can probably understand why this was not the right time for a teenager to tell his parents he was gay.
The actor kept living his life, and after he graduated from college and wanted to make a career in the show business, he sat down with his parents and for the first time told them he was gay. Ben was 24 years old when he told his parents, and almost six years later he was cast in a play alongside Ian and love blossomed.
Almost 27 years and the couple still live together in South London; the world changed, and still, the two lovers are together.
Did They Get Married?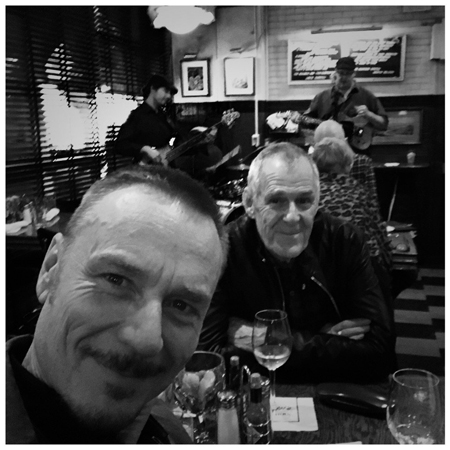 Ian Gelder and Ben Daniels are not married.
Source: Twitter
The world is a whole lot different from the way it was in the 90s, there is still homophobia in our culture, but gay and people of other sexual orientations are freer in today's society than they were in back in the day. Same-sex marriage was legalized in some of the countries, and gay and lesbians all over the world were getting married.
The thing is, we never got confirmation Ian and Ben tied the knot, and maybe they are not ready to label their relationship and do not need a piece of paper to determine the love they share. But there is a reason to believe the two are married or more likely engaged.
Ben Daniels and Ian Gelder are in a relationship but they are not married.
Source: TVLine
On multiple occasions, we've seen both of them sporting a wedding band on their ring finger. Maybe it is just a ring, and they are wearing because it is fashionable, but why choose ring finger over all else. Maybe they do not want the public to know they got married. But whatever the case, they are one happy couple, and we hope nothing but the best for the lovebirds.
Visit Celebs In-depth for more biographies and gossip on your favorite celebrities.