Sho Madjozi (real name Maya Christinah Xichavo Wegerif) was born on 9th May 1992 in Shelly Village, Elim, Limpopo. South African by nationality, she is a well-renowned singer, songwriter, actress, and poet.
This talented personality was born to parents Rosemary Phaweni and Marc Wegerif. She was mainly brought up by her mother after her parents divorced while she was extremely young.
The first-ever South African female to win a BET Award, Madjozi, tends to incorporate the Tsonga culture through her music.
Sho Madjozi gained incredible fame following her song titled 'John Cena'
Madjozi dropped her new track John Cena on 15th August 2018 which immediately went viral. The song based on the famous wrestler John Cena instantly hit the #1 trending spot on Youtube.
Impressively, the South African rapper received an appreciation from the famous music star Missy Elliott.
Sho revealed the reason she wrote the song about the WWE legend was his former career as a rapper and his persona as the "coolest wrestler."
Madjozi's most significant recognition, meanwhile, came after the wrestler turned actor, Cena, shared her picture on Instagram, which displayed the rapper on the cover of Successful Woman.
John Cena shared Sho Madjozi's picture on Instagram.
Source: John Cena Instagram
Later, Cena shared her picture on his Instagram once again. This time more as a meme as he attached Madjozi's face with WWE superstar Stone Cold Steve Austin's body. The former WWE champion titled the picture 'Stone Cold Sho Madjozi.'
John Cena attached Madjozi's face with the body of WWE superstar Stone Cold Steve Austin.
Source: John Cena Instagram
The song, meanwhile, was released on the music platform Colors Studios which helped her gain millions of worldwide fans in an instant.
Madjozi dragged her ex-boyfriend during an award acceptance speech
During the prestigious South African Music Awards back in June 2019, Sho Madjozi had the internet talking after she won the Female Artist of The Year.
During the acceptance speech, the rapper revealed she was unprepared for her speech and, in fact, shocked by her victory. Sho quickly moved on and talked about how she would sleep at PH's studio while she was recording her album.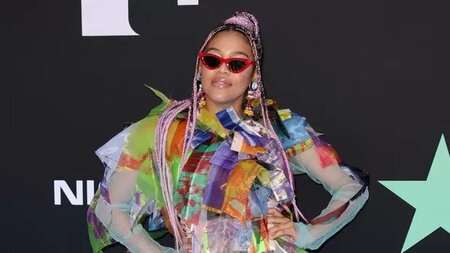 Sho Madjozi was surprised by her victory at SAMA 25.
Source: IOL
The singer then expressed she was "going through a crazy heartbreak at the time." She dragged her ex-boyfriend as she said, "From my now ex who's probably regretting [it]...actually there's a song on my album I would like to dedicate to him. It's track two on Limpopo Champions League, it's called Idhom. And to just top it off I think I'll drop the music video for it at midnight today."
Sho kept her promise and dropped the music video. Meanwhile, fans were curious about who her ex-boyfriend was who got roasted on national television.
Sho Madjozi is determined to end marginalization in Africa
Sho Madjozi wants to put an end to marginalization in Africa.
Source: SABC News
The Wakanda Forever singer often encourages others to remain true to their culture. Born to Swedish father and South African mother, she traveled to several parts of the African continent with her dad.
Getting close to various cultures, she learned to embrace them all. The singer said, "There was this sense of South Africa being quite isolated from the rest of the continent, and I saw myself more as an African than just a South African."
Meanwhile, this enthusiastic music personality carries a lot of love for African languages while she drives herself to become a global sensation.