Christian Camargo is an American actor, producer, writer, and director who was born on 7th July 1971 in New York City, New York, USA. Born as Christian Minnick, his father is a regular guy named Wendell Minnick while his mother is an actress, Victoria Wyndham. Likewise, he is the grandson of actor Ralph Camargo.
Camargo is married to his wife Juliet Rylance since 2008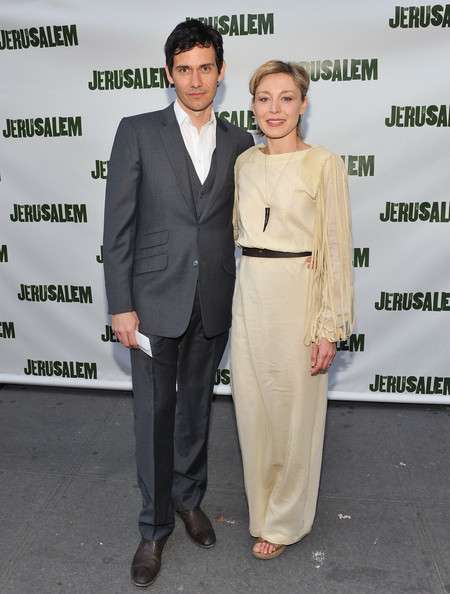 Christian Camargo with his wife Juliet Rylance.
Source: Zimbio
Christian Camargo and Juliet Rylance met for the first time in 1997 during the inaugural season of the Globe Theatre in London while he was working with Juliet's stepfather, Mark Rylance. The two instantly became friends and got closer to each other. However, the initial days weren't easy.
Recalling the late 90s, the actor said,
Back then, Juliet was the boss's untouchable daughter. And there's this slight age difference.
Things, however, took a turn for the better in the fall of 2008. Co-incidentally or perhaps through a stroke of destiny – the actor was appearing on Broadway in All My Sons. At the same time, Rylance was in town on an extended visit with her stepfather who was also on Broadway in Boeing-Boeing.
Christian Camargo and Juliet Rylance are married since 2008.
Source: Telegraph
Christian said, "Projects started winding down, but saying goodbye really wasn't an option. We needed to stay together. So in November 2008, we made a quick visit to City Hall. It was lovely and wonderful."
The couple is married for over a decade now, but do not share any children yet.
The actor couple prefers not to take their work home
Camargo and Rylance are not fond of taking their work home.
Source: The New York Times
During a joint interview at the Brooklyn Academy, when asked if they take their work home, Camargo said "Absolutely not," before instantly changing his tone.
"Yes. We do run lines together. But I definitely have my own way, and Juliet has her own way, and we're respecting that. I'm more the cat going into the cellar under the steps to die, and Juliet just says to the room: 'I'm here. Let's everyone get together.' The analogies don't quite match, do they? My process is more solitary and isolating. Maybe I'm wrong. It's always changing."
Meanwhile, Juliet opted not to beat around the bush as she suggested it's a learning phase in their relationship. For her, it's fascinating to figure out when to be indulged in work and when to step back.
Christian and Juliet starred together in 'Days and Nights'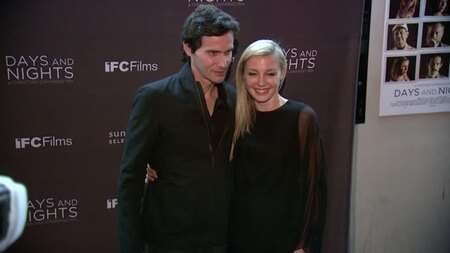 Christian and Juliet at the New York Premiere of 'Days and Nights'.
Source: Getty Images
Days and Nights (2013) is an American drama film set in rural New England in 1984. The movie tells the events over one weekend of an extended family.
The film is written and directed by Christian Camargo who also plays a lead role as Peter, a friend of Elizabeth (Allison Janney). Starring alongside her husband is Juliet Rylance portraying Eva, the muse of Eric (Ben Whishaw).
The movie, however, was poorly received by the critics.
Christian Camargo is starring in 'See'
Camargo is playing the role of Tamacti Jun for all 10 episodes of the first season of See.
The series tells the story of the human race in the future who have lost the ability of sight. The people have begun developing other senses to interact and live in society. However, things take a turn for the worse when two babies are born with sight.
Produced for Apple TV+, See premiers on November 1, 2019.
The actor is best known for his role as Brian Moser in 'Dexter'
Christian Camargo as Brian Moser in 'Dexter'.
Source: Wikipedia
Christian Camargo stars as Brian Moser (also known as Rudy Cooper) in the Showtime series Dexter (2006-2011). Brian is the first antagonist in the series who the police refer to as The Ice Truck Killer or ITK in short. Moser is the only serial killer to make an appearance in both the novels and the small screens.
Watch: Dexter and His Brother: "You're still here"
https://www.youtube.com/watch?v=fDQhN8BlY2I
During the season 1 finale, Brian is revealed to be the son of Laura Moser and the biological brother of Dexter Morgan (Michael C. Hall). He is also one of Debra Morgan's lovers while it's never clarified if his father is Joe Driscoll.
Besides Dexter, the actor's most notable appearance is in the Twilight saga films playing the role of Eleazar.
Visit Celebs In-depth for more intriguing details of your favorite stars.