Emily Swallow is an American actress best known for her roles in Supernatural (2005), The Mentalist (2008), Southland (2009), Monday Mornings (2013), How to Get Away with Murder (2014), and Timeless (2018).
The actress was born on 18th December 1979 in Washington, DC whereas she was raised in Jacksonville, Florida. Beginning her career in Broadway theater, she gradually went up the ranks and managed to make her name in the small screens.
Emily Swallow exchanged vows with her husband Chad Kimball in 2018
Emily Swallow with her husband Chad Kimball.
Source: Broadway World
Emily Swallow married her husband Chad Kimball in Washington, DC on 26th August 2018. Chad, a Tony-nominated American theatre actor for his performance in Memphis, has featured in several Broadway productions.
The couple first met at La Jolla Playhouse during the Broadway show Come From Away. At the time Swallow was attending the event to see former co-stars Jenn Colella and Joel Hatch.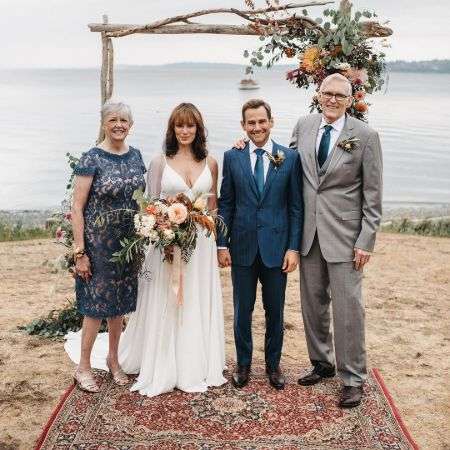 Emily Swallow and Chad Kimball during their wedding.
Source: Emily Swallow Instagram
Earlier in February 2016, Emily was rumored to have a boyfriend but never confirmed anything. Her sudden wedding two years later definitely came as a surprise to her fans.
Emily is fond of surfing whenever she's got free time. Moreover, this adorable duo often goes out for walks with their Frenchton puppy named Norma Jean Meatballs Kimball.
Emily Swallow with her Frenchton puppy.
Source: Emily Swallow Instagram
Although fans are eager for this duo to expand their family, the couple is yet to welcome children into their life.
Played the role of Kim Fischer in 'The Mentalist'
Swallow played the role of Kim Fischer in 'The Mentalist' Season 7.
Source: Pinterest
Emily portrayed the character of FBI Senior Special Agent Kim Fischer in the American drama series The Mentalist (2013-2014). She was a series regular throughout the sixth season appearing in 14 episodes.
The series follows former 'psychic' Patrick Jane (Simon Baker) who uses his impressive observational skills to serve as a consultant to the CBI. The show ran for seven seasons and 151 episodes from 23rd September 2008 to 18th February 2015.
Watch: Emily Swallow discusses her role on 'The Mentalist'
Swallow's character is introduced in the sixth season as a smart and pretty ex-homicide detective from Dallas who is believed to be in her 30s. She featured as the main cast for a single season before she was written off the show. During the season 7 premiere, it was mentioned her character got transferred to Seattle FBI to look after her ill mother who suffered a stroke.
Emily portrayed The Darkness (Amara) on Supernatural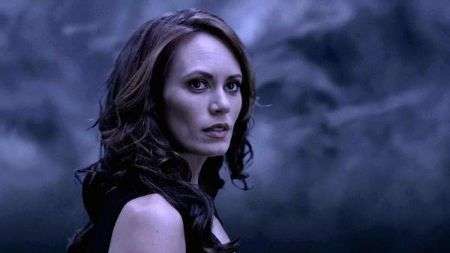 Emily Swallow as The Darkness (Amara) on Supernatural.
Source: IMDb
One of Emily's most notable roles to date, the actress was introduced in season 11 premiere of Supernatural (2015-2016) as a primordial entity who existed before the beginning of time. The Darkness is believed to be slightly older than both God (Rob Benedict) and Death.
When her brother God (who prefers to be called Chuck) came into being, he betrayed her and locked her away with the help of the archangels he created. Chuck used the Mark of Cain as both lock and key, to seal her away and subsequently imprisoned her for eternity.
Check Out: Dean meets the Darkness
During the end of the season 10 finale, Rowena (Ruth Connell) used a spell from the most potent black magic book known as 'Book of the Damned' in an effort to free Dean of the Mark. Upon her success, the Darkness was unleashed on the world once again.
The Darkness then takes on the body of a female baby named Amara. She grows into a matured woman within a few months as she keeps consuming human souls. Eventually, Dean helps reconcile the sibling duo of Chuck and Amara, and the two leave earth together. As a token of appreciation, The Darkness provides Dean the best thank you present he could ever wish for.
Swallow is the new cast of 'The Mandalorian'
The Mandalorian (2019) is an American space Western web series set on the Star Wars universe which premieres on Disney+ on 12th November 2019.  The series takes place five years following the events of Return of the Jedi (1983).
Emily joins the main cast alongside Pedro Pascal, Gina Carano, Nick Nolte, and Giancarlo Esposito. Meanwhile, Jon Favreau serves as the writer, creator, and executive producer for the show whose budget is believed to be $120 million.
Visit Celebs In-depth for more interesting facts about your favorite celebrities.