Belonging to a creative background, Angourie Rice began her career in Perth, West Australia. She initially performed in TV commercials and short movies before moving up the ladder and earning herself major Hollywood roles.
Rice began her career as a child actress and came into the spotlight following her performances in These Final Hours (2013) and The Nice Guys (2016).
Meanwhile, as a devoted student, Angourie does not let her fame get in the way of her education. She is fond of going to schools and whenever she can't attend, she hires a personal tutor who teaches her on sets. Her sincere devotion to studies is nothing short of admirable.
Angourie Rice's biggest breakthrough arrived in 'Spider-Man: Far From Home' (2019)
Angourie Rice as Betty Brant in Spider-Man: Far From Home.
Source: IMDb
Being a part of MCU is no easy feat. The recognition one receives after playing even a minor character is unprecedented. Angourie instantly became a popular Hollywood star after featuring alongside Tom Holland on Spider-Man: Far From Home (2019).
Check out: SPIDER-MAN: FAR FROM HOME - Official Trailer
Rice portrays a school reporter and news presenter at Peter's school named Betty Brant. Previously, she also starred in the first Spiderman movie of the MCU, Spiderman: Homecoming (2017). However, her role was limited and scarce in screen time.
The actress finally got the opportunity to showcase her acting skills in one of the biggest movies of 2019 and it's fair to say she did not disappoint.
Rice appeared in Black Mirror episode starring Miley Cyrus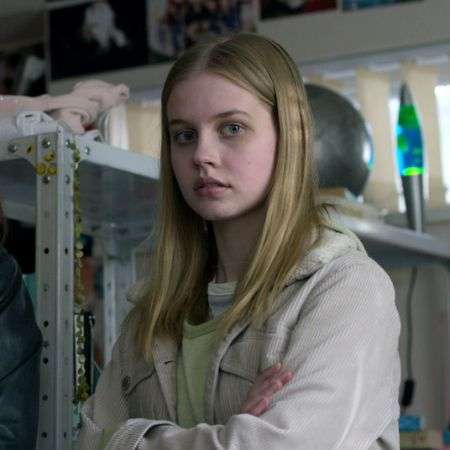 Angourie Rice as Rachel in Black Mirror.
Source: Vulture
Black Mirror is one of the most critically acclaimed series of the last decade. Angourie was fortunate enough to star in one of the episodes, the third and final one of season 5 titled Rachel, Jack and Ashley Too.
Watch: Black Mirror: Rachel, Jack and Ashley Too | Official Trailer | Netflix
Angourie played the character of Rachel who receives the best birthday present she could ever wish for, a virtual-assistant-like doll in the image of Ashley O (Miley Cyrus). She helps rescue Ashley during the episode from the mess she got into. Although the series garnered mixed reactions, Rice received appreciation from the fans and critics for her performance.
Angourie Rice's family belongs to the movie background
Angourie Rice belongs to a creative family.
Source: Metro UK
Angourie was born to her parents Jeremy Rice and Kate Rice, a director and a writer, respectively. She has only one sibling, a sister named Kalliope. Rice's father Jeremy is a well-known personality in his native nation who mostly directs Australian films and series. The most notable credit to his name is Trapped, a TV series that aired in 2008.
Meanwhile, the actress' mother Kate is an actress as well as a writer. As a matter of fact, she wrote a few episodes of her husband-directed series Trapped.
It hardly comes as a surprise the fact that Angourie is such a talented actress. The profession pretty much runs in the genes of the entire family.
The actress was hand-picked by director Zak Hilditch to star in her debut feature film
Rice made her debut with the apocalyptic thriller movie These Final Hours (2013). The actress was just 12 years old at the time, and impressively she was hand-picked by director Zak Hilditch to play the lead role.
A year prior to her feature film debut, Rice gained the industry attention at just 11 when she starred in Hilditch's short film Transmission. Her marvelous performance earned her the Best Actress Award at St. Kilda Film Festival.
Check out Celebs In-Depth for biographies and gossips of more of your favorite celebrities.